The AI industry is growing fastly for the last some years. AI technology is making our life easy by helping us in our daily tasks. I am also using many AI tools to make my tasks easy and professional. As a Digital Marketer, most of my work is around Marketing. To improve my performance I am also using AI tools for Marketing. So today I am going to share 5 amazing AI marketing tools I use during my work. So if you are also a Digital Marketer you will get help from them.
Here is a list of AI MArketing Tools I Use During my Work
PFP Maker is an amazing a.i tool that helps us to remove the background of our images, and design amazing backgrounds to make our images cool for social media Display pictures.
I am personally using this website, to design my Cool social media display pictures and increase my visibility. Just you have to upload your picture, and it will automatically remove its background and design your picture, and after that, you can save them with just a single click.
Synthesia
As we know Videos play a very important role in the marketing of any business, but video recording and editing are a very lengthy and costly process, so I am going to share a very easy and unique solution. Synthemia is an Amazing AI tool that helps you to create multiple videos for your projects or the Marketing of your business. Just you have to write your script and this website will create a video for you.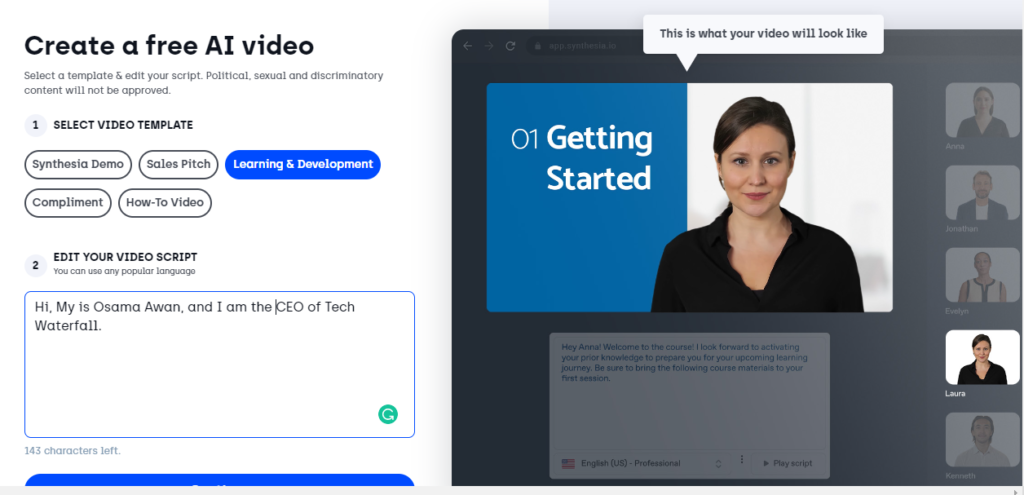 Like this, you can easily write your script and choose your template according to your choice. And you can save your video with just a single click.
Copy.ai
As a Digital Marketer, Copy.ai is one of the amazing tools I use for my work. It helps you to write captions for your Social Media and write content for your blog and other tasks. It helps to increase the productivity and speed of your work.
Brand Mark
As we know, Logo is the identity of any business. Do you also need a logo for your business? But you are not a graphic designer, don't worry you don't need any expensive design service, because Brand Mark helps you to create free eye-catching professional logos for your business.
Just you have to write the name of your business, or if you have any slogan. And after this, you have to choose your color selection, and Brand Mark will automatically create multiple logos for you. You can select your favorite one and save it with just a single click.
Beautiful.ai
Beautiful.ai is one of the amazing tool to make beautiful and very professional presentations. Professional Presentations play a very important role in any business. If your presentation is eye-catching and professional then there are more chances that you will get a business or achieve your task. By using Beautiful.ai you can easily use their pre-made templates and create your business or personal presentations. Even you can also create a video presentation with infographics and many more options for your business.
Also Read: 10 Handy Free Websites I Use to Increase My Productivity