Fiverr is one of the most accessible and most helpful online freelance platforms to Buy or Sell Digital Services. Fiverr started its operations in 2010, and millions of Clients hire freelancers for their digital services. If you are a freelancer and have expertise in any digital skills, i.e., Digital Marketing, Graphic Designing, Web Development, Content Writing, Apps Development, Project Management, etc. Then Millions of clients worldwide are waiting for you. On Fiverr, there are two ways to sell your services. The first one is to create your Gigs for your services. The gig is used to showcase and describe your service and experience to your clients, so they can hire you according to their requirements. Do you want to create your gig on Fiverr and want to sell your services worldwide? You can easily create your gig by following these easy steps. Today, I will share how to create a gig on Fiverr Step by Step Guide.
While the second method is to respond on Buyers requests. Buyers from all over the world Post their requirements and budget for their required services. And Seller has to respond to their request with their proposal. If you are writing a proposal for your client, always highlight your skills and experience first. After this, explain the cost and time required to complete your task. And always offer something extra in terms of service to get the attention of your clients. But to respond to the Buyer's request, you first have to create your gigs, so let's start learning how to create a gig on fiverr.
How to create a Gig on Fiverr Step by Step Guide
First Step
First of all, you have to create your account on Fiverr with your Email, or phone number, by using your smartphone or Laptop. Creating an Account on Fiverr is very easy and simple, just like creating an account on Google or any Social Media Platform like Facebook, Instagram, etc.
Second Step
After creating your account on Fiverr, you can upload your Professional Picture, which is very important because your picture is your first impression. Always try to upload a picture with your clear face and a professional neat and clean dressing.
After uploading your picture, you can add your tagline and Description. Add your tagline according to you your profession. For Example, if you're a Graphic Designer, you can add the tagline "Passionate Designer from last 5 Years". And In Description, try to explain everything about you, like your experience, skills, expertise, and achievements in your profession.
After adding your Description, you can add languages, you can speak or write. Your Education history, your Skills, and Attach your Social Media accounts, like Facebook, Instagram, Twitter, etc., to your Fiverr Account. This thing will increase your client's trust.
If you have any Certifications in your relevant field, you can also add your Certifications to your Fiver account. Last but not least, you can also participate in the Fiverr Skills test. The Fiverr Skills Test is an online test consisting of different MCQs (Multiple Choice Question). After passing that test, your score will be shown to your clients to prove that you are an expert in your field.
Third Step
In the third step, we will learn how to create a Gig. After completing the above two steps, we will go to our profile and click on Create a new gig option.
After clicking on Create a new gig option, will add our Gig Title, Category, and Search Tags.
Gig Title
Gig Title represents our Service to our Clients. Your Service is your Main Keyword. Add your keyword clearly in your title. For Example, you are offering your Service for Facebook Ads. You can write your title as "I Will Create and Manage your Facebook ads to grow your business."
Category
In the category section, you have to add your Category and sub=category according to your service. For example, for Facebook ads, your Category will be Digital Marketing, and your sub-category will be Social Media Adverting.
Search Tags
Adding Search Tags is very important part of creating a gig. Search Tags are those keywords people use for searching freelancers for their Services. For example, If I write a Facebook on Fiverr's search bar, it will show me different results. All these results are keywords or Search tags. You can also find out your Search Tags by searching in Fiverr's search bar. These Search Tags are visible to everyone, and you can also check search tags used by Best Sellers of Fiverr in your relevant field.
After adding your tags, you can click on Save and Continue button to go to the next step.
Fourth Step
In the fourth step, we will describe the different packages we will offer to our Clients. In this section, we will add the pricing and service we will provide in our packages. You can add 3 different packages and name them Silver, Gold, and Platinum. For Example, you can offer 1 week of Ads Management in Silver, 15 days in Gold, and 1 Month in the Platinum package. After adding our packages, we will go to the next step.
Faith Step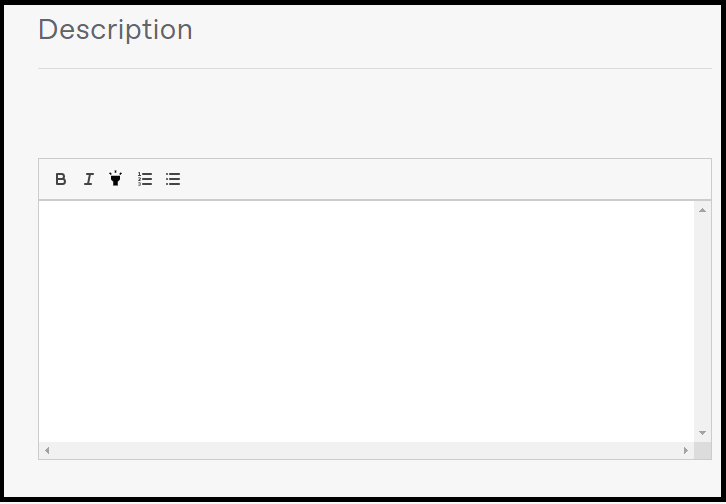 In Fifth Step, We will add a Gig Description, which is the most important part of our gig. We will explain each and everything about our service in our description. In the first part of the Description, we will explain the advantages of our service and how we are adding value to their business.
While, In the second part of the description, we will briefly explain what we are offering in our gig, our core competency, and our portfolio.
And in the Last Part of the Description, we will explain to Send a Message so we can discuss everything in more detail. Remember that we must use our Keyword a minimum of 3-4 times in our description. After Adding a complete description, we will go to the next step.
Sixth Step
If someone orders our gig, defiantly we need some information from him to complete that project. In the Sixth step, we will add a list of the information we require from our client to complete his task.
Seventh Step
The seventh step is our last step. In this step, we will add Images or Video according to our choice. But I will recommend adding both Video and images. In Video, we will explain about our service and expertise. According to research, Gigs with videos perform better than gigs without video. So try to add a professional video and eye-catching image to your gig. And never copy that image from Google. Always try to create it using any free software like Canva.
After Adding Photos, and Video, we will Publish our gig, so Clients from all over the world can visit our profile and check our gigs.
I hope now you can create your gig, and I wish the Best of Luck to all of you who will create their first gig on Fiver.
Summary
Article Name
How to Create a Gig on Fiverr Step by Step Guide
Description
Fiverr is one of the most accessible and most helpful online freelance platforms to Buy or Sell Digital Services. Here is a complete step-by-step guide, about how to create a gig on Fiverr. And how to do keyword research on Fiverr for gig ranking.
Author